Watts Current  
January 2023 Article Making the Most of Managed Wi-Fi: Unified Network Name (SSID)  
February 2023 Article Streaming Guide Now Available on MVEC.coop  
March 2023 Article Email Tips as You Convert to MVlink Service
April 2023 Article Protect Your Pets and Your Fiber Internet
May 2023 Article Battery Backup for Your VoIP Phone
June 2023 Article Is Your MVlink Account Information Current?
July 2023 Article Put Your Wi-Fi to Work This Summer
MVlink eNewsletter
January 2023
Making the Switch to MVlink
January 2, 2019—Happy New Year and thank you to the almost 2,000 members who have made the switch to MVlink's high speed fiber connection. To those of you still waiting, we appreciate your patience as we continue our network build-out. Interest determines construction so please stay in touch with us.
As you convert from your existing service provider to MVlink, don't forget about your email service. We are finding members who use an email account established through their provider, such as @netins.net or @yousq, and those provider-specific addresses will not work once you move to MVlink. Those using Gmail, Outlook, Hotmail, Yahoo or other free services should not have to read any further.
If you are currently using an email address established by your provider, you will want to save your contacts and set up a new email account PRIOR to the MVlink installation. Our installation technicians are not trained in setting up email and their schedules don't allow the extra time to do so.
Take a few minutes and learn how to save or export your contacts to a file in your computer. Then use the attached document Email Setup Tips for steps to set up a Gmail or Outlook account and move your saved contacts into this new service. (Of course you are also welcome to transfer to Yahoo, ICloud, Proton or another service of your choice.)
Once you have established a new account and imported your saved contacts, you will want to notify your contacts that your email address has changed.
A few minutes ahead of the installation will save you the headache of lost contacts later.
MVlink Allows Members to Cut the Cord
November 15, 2018--Conversation about television has certainly changed in recent years.  It seems we are surrounded by people talking about Netflix, streaming TV, cutting the cord and the price of cable packages.  Did you know that MVlink's high speed fiber internet service can easily allow you to cut the cord?  Read on to learn how your MVlink-served home can make the transition.
The television service in many homes today is still provided through cable providers like Mediacom, Century Link or your local rural telephone company or may be offered through a satellite dish mounted on or near your home.  This type of service offers package pricing with each package offering up multiple channels that hopefully include those specific channels that all members in your household like to watch.  For example, Package A may have ESPN, but not the Disney channel and Package B might have both of those, but not have the History channel. 
The 'new' way to watch TV is to purchase an internet-based streaming service  (think Netflix, Sling TV, Play Station Vue, etc.) that allows you to choose only the channels you want to watch.  Why pay for 50 channels when you typically only watch 10 or 20 channels?  The best part is that you can generally purchase multiple, different streaming services for considerably less than the monthly cable/dish packages.  Do a few Google searches to see which streaming service(s) covers the channels you watch most and decide which you might like to purchase.  You can purchase multiple services and change them out at any time as no contracts are required; and many offer free trials.  Now, compare the cost of those streaming services against what you pay today for your cable/dish line-up.  Streaming services vary in their monthly costs and may factor in how many TV's will be streaming shows; generally, streaming costs are less than the cable/dish packages. 
Once you've determined which service(s) you want, the next step is to purchase a media streaming device, like Roku for example.  This device is plugged into your TV, then connected to your WiFi service, essentially turning your TV into a smart TV.  These devices are generally less than $50; a one-time expense versus monthly lease costs of existing cable boxes.  You will need one device for each TV you want to stream shows on.  This website is a good resource to learn more about device options:  https://thewirecutter.com/reviews/best-media-streamers
Before activating your new services, you want to ensure your internet service can handle the heavy bandwidth required by streaming services.  Welcome to MVlink!  With fiber as the gold standard for internet services, it is built to handle streaming and our packages offer unlimited data!   A good rule of thumb starting out is to realize each device that uses WiFi needs a 10 mbps service to stream one show or video.  Your new streaming device counts as one, each cell phone, each tablet, each Amazon Echo, etc. all add up.  With MVlink's minimum of 50 mbps service you can operate multiple devices without experiencing any buffering!
Additional things to be aware of as you consider the switch include:
Your TV may already have smart capabilities built in. If so, you would not need to purchase a media streaming device as mentioned above.

Are local channels (KCRG, KGAN or KWWL) important to you? If so, you'll want to research which service offers those.

Many services have limited commercials and some even offer no commercial interruptions.

Some services, like Hulu & Netflix for example, are "on-demand"; meaning you watch what you want, when you want. Pause, stop, resume another day, or on another TV. And this leads into whether or not you need to DVR/record a show. 

Be sure to explore premium channels like HBO and Showtime. Each channel decides whether they will be available through streaming services.

Streaming services, like Netflix for example, may recommend 25 mbps of service if you want to stream on the new 4K TV's or devices popular today.  And that would mean 25 mbps for each 4K device.  Visit https://www.lifewire.com/how-to-stream-netflix-in-4k-1847830  for more  information on 4K streaming.
Fiber Infrastructure
August 14, 2018—Building over 3,000 miles of a fiber network takes time.  You could say it took 80 years to build that much electric line and make it as reliable as it is.  Through the use of numerous contractors, we are building the fiber network much faster, likely within four years, yet with the same attention to detail and reliability.
Electric cooperative members are used to seeing the electric infrastructure; substations, poles, wires, transformers, meter pedestals and meters.  The fiber construction is introducing new infrastructure attached to, or near, the electric equipment.
Similar to a substation, fiber construction starts with a headend building, where the fiber source initiates.  We currently have two headend buildings that connect to form a loop and help to ensure reliable service. 
Extending from the headend, you will see the fiber line, hanging just below the electric line, termination splice points, splitter cabinets, terminal pedestals and fiber markers.
These pole-mounted splitter cabinets act as a source of fiber and are strategically located to serve the connected members in the area.  As an example, one electric circuit may have as many as three splitter cabinets serving 100 homes.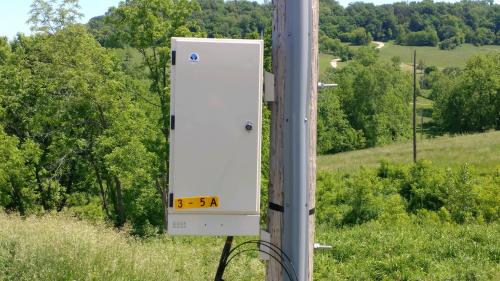 In subdivisions, you may see terminal pedestals on the ground.  Typically smaller than an electric transformer box, these pedestals are the connection point for the homes or businesses within that subdivision.
When you see overhead electric line, you may notice the fiber line looks different, almost as if it is tangled.  This is planned construction, leaving extra fiber, or slack, to allow for future needs.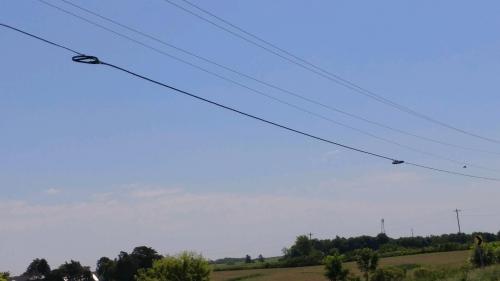 Glancing at the top of some poles, you may notice these, cylinder-shaped devices.  These are termination splice points and allow Cooperative personnel access to fiber to serve our electric equipment as well as individual homes and businesses.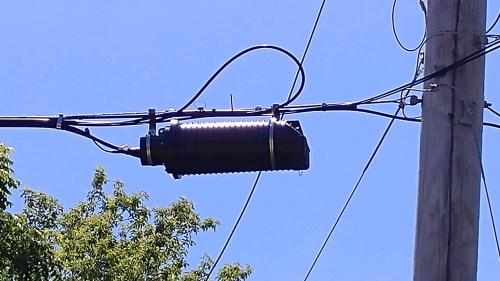 Because some of the fiber infrastructure is underground, just as electric lines may be, you might see orange fiber markers in area ditches to mark the location of the underground.  Please do not use these markers as a personal guide on where underground utilities are.  It is always much more safe, and far less expensive, to call Iowa One Call anytime you plan to dig on your property.  Call before you dig, it's the law--800-292-8989, or 811.
Watch for a future blog about the equipment needed at your home or business to bring the fiber directly to you.
The Make-Ready Step
July 6, 2018--We are always pleased when members ask "why". It tells us you are engaged in our efforts. Recently we were asked, "Why did you install a new, taller pole on our property?". The answer was to accommodate the new fiber line and still provide sufficient clearance from the ground.
With over 1,000 miles of fiber now installed, we have found that the process we established at the beginning of the project is still working well. The design of our electric system the past 83 years didn't assume we would need to add a communications cable to every single pole. We hired an engineering consulting firm, Pulse Broadband, to review our system, including every road, driveway and field crossing, to ensure we can still maintain adequate ground clearance once the fiber cable is installed. The firm identifies issues and then our linemen complete "make-ready" work to ensure the pole will allow the fiber cable to be safely attached.
Another question often asked is "Why did you trim/cut my trees?".  The cooperative is always working to keep trees from growing into power lines in an effort to reduce tree related power outages.  The addition of the fiber line, below the electric line, requires additional trimming for clearance and access to the line.  We love trees as much as our members do.  They are part of what makes eastern Iowa so beautiful. However, trees and power lines don't mix and if they bring electric and fiber lines down during an ice or wind storm, it takes much longer to free the line and restore services.
Construction and maintenance of our system is at the core of our efforts to remain one of the most reliable utilities in the state.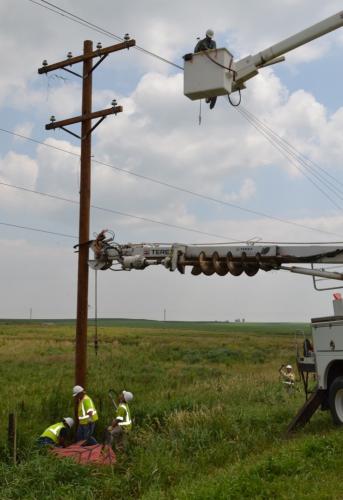 VoIP Telephone Service Option
June 7, 2018--Along with high speed internet service, members can also enjoy unlimited long distance telephone service. Voice over the Internet (Protocol), or VoIP service may be a foreign term to some, but it simply means your telephone service can be supplied through your broadband internet connection instead of an analog telephone line.  Most members will be able to retain their current telephone number and their current telephone(s).  The service includes a free, 8-hour battery back-up to ensure continued accessibility during a power outage.  
Residential VoIP service is only $34.95 per month when bundled with your MVlink internet service (cost is $49.95 if not bundled).  You will receive all of the following features:
Unlimited local calls

Unlimited long distance calls within the contiguous United States

Voicemail to Email

Call Waiting

Caller ID

Call Forwarding
For those members needing dedicated fax lines, and additional line can be added for $14.95 per month.  Businesses needing multiple extensions or services can contact the office for a customized VoIP solution.
Go digital and give VoIP a try!