With greater interest in member-owned generation, we want to be a resource to help members make the right decisions and follow thru in a safe manner.  
By first addressing energy efficiency improvements, you may be able to reduce the size of a generation system you are contemplating.  
Click Here for more information on how we can help determine your energy needs.  
Click Here to read through a Solar PV Energy Guide
 •Iowa Utilities Board Informational Guide for On-Site Generation (Click Here)
•Cooperative Requirements (Click Here)
•Distributed Generation Application Form (Click Here)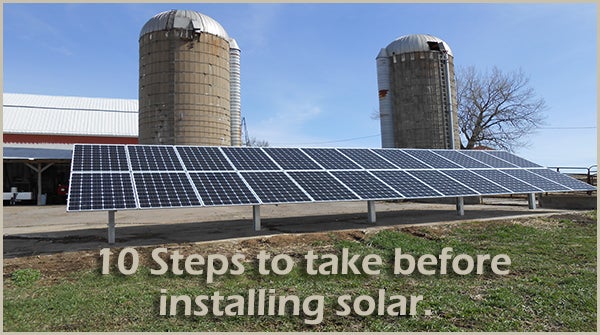 As a member-owner of Maquoketa Valley Electric Cooperative, we are your source for power and information. Since interest in solar power generation is growing, we put together a series of fact sheets to help answer questions you might have.
If you are thinking about installing solar at your home, we have a 10-step guide to help aid your process. As prices decline and technology improves, installing a residential solar system—also called a photovoltaic or PV system—makes sense for some members. However, even with these recent improvements in PV, it's important to find out the facts before committing to a purchase. For a successful installation, here is a summary of the critical steps to take before signing a contract.
Make your home more energy efficient before buying a solar system.

Research, research, research, before investing in a solar system.

Understand how a solar system meshes with MVEC's distribution system.

Review your current energy use so you can determine what size PV system to install.

Tally upfront costs.

Search for incentives, rebates, and tax credits.

Be sure you know and understand what your responsibilities are if you purchase a PV system, including extra costs to connect to the cooperative grid, maintenance and system repairs.

Follow all safety precautions and electrical code/inspection.

Choose a reputable contractor/installer.

Maintain good records.
MVEC encourages you to visit with us for the latest information about renewable energy options in our area. Contact us at 800-927-6068, or visit www.mvec.coop for more information about solar and assistance in making decisions about whether solar is a good option for you. We are your source for power and information.