With greater interest in member-owned generation, we want to be a resource to help members make the right decisions and follow thru in a safe manner. If you are considering installing solar panels (or wind turbines), you first need to understand how your solar system would tie into MVEC's electric distribution system. MVEC pays the member the cooperative's avoided cost for electricity that is overproduced from the member's distributed generation system (such as solar). MVEC buys the electricity back in real-time when the member is overproducing electricity. For example, if a member produces 5 kwh with his/her distributed generation system and is using 2 kwh, MVEC will buy 3 kwh at that time. At the end of the month, MVEC will do a bill credit to the member's electric account for the kilowatt-hours purchased. It is important to note that if a member has the Heat Plus Rate from MVEC, that rate would be discontinued if the member has his/her own distributed generation.
See below for our quick guide, '10 steps to take before installing solar.' Also, consult these resources as you are evaluating the feasibility of generating your own power:
By first addressing energy efficiency improvements, you may be able to reduce the size of a generation system you are contemplating.  
Click Here for more information on how we can help determine your energy needs.  
Click Here to read through a Solar PV Energy Guide
 •Iowa Utilities Board Informational Guide for On-Site Generation (Click Here)
•Cooperative Requirements (Click Here)
•Distributed Generation Application Form (Click Here)
Legal Requirements and Responsibilities Before Installing On-Site Generation 
As of January 1, 2013, notification requirements were put into effect that apply to owners of alternate energy production facilities that will be attached to an electric transmission or distribution line. Alternate energy production facilities are defined as solar, wind turbine, waste management, resource recovery, refuse-derived fuel, agricultural crops or residues, or wood-burning facilities used to generate electricity. Under this requirement, the owner of the facility, no matter how small (solar-powered heat pumps, for example), is required to provide written notification to his or her utility of the intent to construct or install the facility at least 30 days prior to construction. In the written notice, the owner must provide information on the type of facility and the anticipated completion date of the construction. If you have any questions about how solar might work for your home or business, contact MVEC to discuss at 800-927-6068.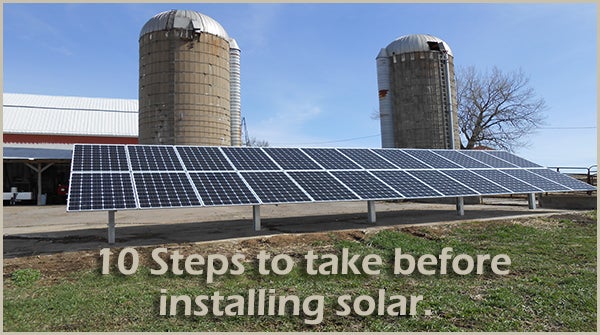 As a member-owner of Maquoketa Valley Electric Cooperative, we are your source for power and information. Since interest in solar power generation is growing, we put together a series of fact sheets to help answer questions you might have.
If you are thinking about installing solar at your home, we have a 10-step guide to help aid your process. As prices decline and technology improves, installing a residential solar system—also called a photovoltaic or PV system—makes sense for some members. However, even with these recent improvements in PV, it's important to find out the facts before committing to a purchase. For a successful installation, here is a summary of the critical steps to take before signing a contract.
Understand how a solar system meshes with MVEC's distribution system and contact MVEC to discuss your specific situation.
Research, research, research before investing in a solar system.
Review your current energy use so you can determine what size PV system to install.
Tally upfront costs.
Consider the cost benefits of energy efficiency improvements against cost benefits of solar.
Search for incentives, rebates, and tax credits.
Be sure you know and understand what your responsibilities are if you purchase a PV system, including extra costs to connect to the cooperative grid, maintenance and system repairs.
Follow all safety precautions and electrical code/inspection.
Choose a reputable contractor/installer.
Maintain good records.
MVEC encourages you to visit with us for the latest information about renewable energy options in our area. Contact us at 800-927-6068, or visit www.mvec.coop for more information about solar and assistance in making decisions about whether solar is a good option for you. We are your source for power and information.